Q: Why did you choose this building?
The Black Country Living Museum is unique in every respect. There are approximately 100 buildings of a variety of ages on the site, as well as external structures including a lime kiln, canal basin and bridges.
The site has been sympathetically put together and really does feel like you're walking back through time- which is one of the reasons it made such a good set for some of the recording of Peaky Blinders!
Q: What would be the key concerns about rebuilding here?
With many of the buildings being original and relocated here from other parts of the country, a challenge of reinstating at the Black Country Living Museum would be ensuring the buildings are reflective of their era, so the materials and even in some cases traditional construction methods no longer used in modern methods of construction, would be required.
A good example of this would be Jerushah (Tilted Cottage), a cottage believed to have been built around 1847. It was relocated from Gornalwood, Dudley in the 1980s and was subsiding as coal from the Earl of Dudley's mines was dug from underneath the area.
As such, the Black Country Living Museum underwent a highly detailed reconstruction of the property, with the tilt being retained. This rebuild is believed to have taken 3 years, ensuring that the structure we see today is true to how the building stood in its original location.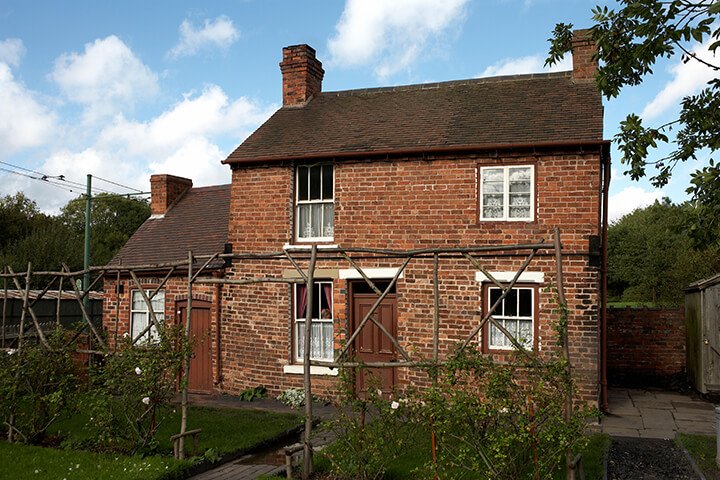 Q: Interesting fact about this building?
The site of the Black Country Living Museum was formally a mining site, with 50 mine pits believed to have been in use. Though these have all been decommissioned, there is a replica mine that gives a very realistic experience of mining conditions.
Q: If you could survey and assess any building in the world, which would you choose?
The Silverstone Wing. With 40 pit garages beneath the spectator and hospitality zones, media centre and control tower, it would be a long but interesting 'day at the office'!
Q: What do you do when you are not working?
My new role as Director at BCH is certainly taking up a lot of time as I enjoy being available to respond to queries and travelling nationally to fulfil the role, but in addition to this, my downtime is largely spent on walks with my wife, daughter and two spaniels.