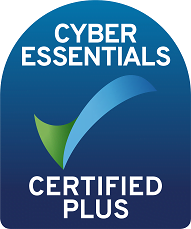 Barrett Corp & Harrington has reached a major milestone, achieving Cyber Essentials Plus certification from the independent certifying body, Aristi.
Introduced by the UK Government's National Cyber Security Centre, the government-backed certification is awarded to organisations that can demonstrate robust cybersecurity principles and capabilities. This enables them to provide a high level of security, cyber resilience and assurance of defence against online attacks.
Aristi conducted a series of technical assessments to ensure that the company is protected against various attack scenarios. The evaluation assessed:
Boundary firewalls
Secure asset configuration
Patch management
User access controls
Malware protection
Mobile assets
Having successfully passed the evaluation, Barrett Corp & Harrington is able to demonstrate to all customers that security of their information is taken seriously. Certain private organisations and government bodies insist on their partners having this accreditation, which satisfies compliance aspects of regulations and standards such as the Data Protection Act, the Payment Card Industry Data Security Standard (PCI DSS), ISO 27001, the Cabinet Office Security Policy Framework (SPF) and GDPR.
"Cyber Essentials Plus is a great achievement for BCH, particularly in a fast-evolving technological environment. This award will continue to help BCH remain at the forefront of this technological revolution, whilst helping us to continually provide reliable products and solutions to our customers."

Jeremy Price, Finance and Operations Director