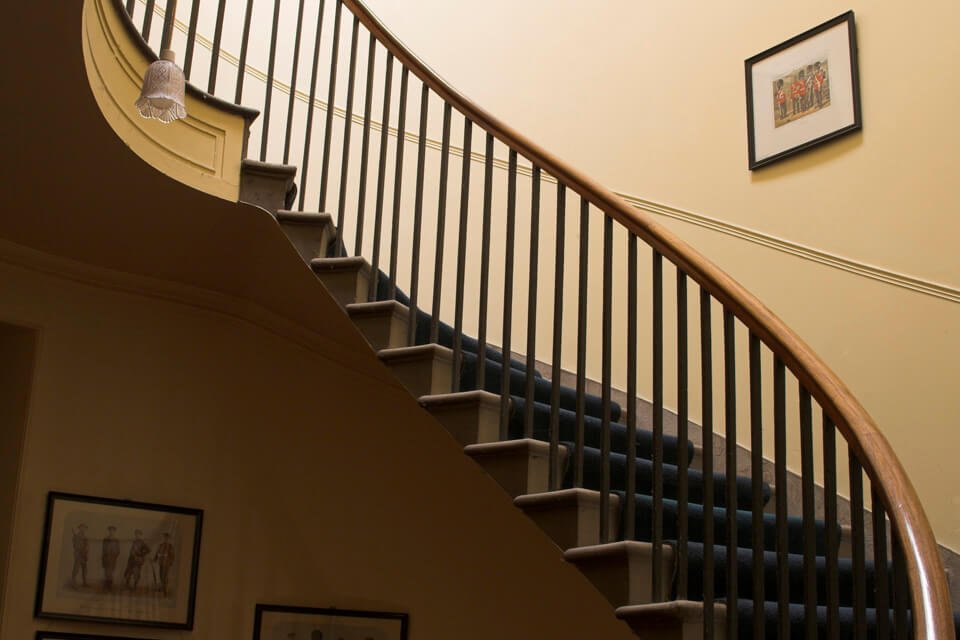 Wow, now that's a staircase!
Lorna Harrington BA(Hons), MA, PGDipConsHistEnv (RICS), considers the impact of a beautiful period staircase on the appropriate buildings insurance valuation or reinstatement cost assessment.
I walked into the flat I now own and exclaimed 'Wow, now that's a staircase! Sell everything we have, we have to get this flat.'
The building I now live in was once a single family dwelling, later a school and now is divided into duplex flats. I fell in love with the magnificent staircase I feel so lucky to now own. To me it is the most beautiful thing in my home.
But what if my 'block of 4 flats' was to suffer a fire? A standard staircase costs in the region of £10,000, but that wouldn't even get me to the 1st floor as I have 14ft high ceilings. I also wouldn't get a solid oak staircase, nor one that is carved and has hanging pendants. An insurance value on my staircase would be in the region of £50,000.
Being an insurance professional, I studied the value of what my new home was insured for. You may be shocked to read that it was insured for half of what it should have been. If our policy had an average clause in it, then following a major loss, my neighbours and I would have found ourselves in a very sticky position. What many people don't realise is that an average clause pays out to you the ratio of what you have been insuring for. Thus, say our property was insured for £1,000,000, but should have been insured for £2,000,000, then on a large claim of say £800,000, we would only have been paid half i.e. £400,000. Ouch! Yes that would hurt in a big way.
My home isn't listed but it is Victorian dating from 1852. It is just the sort of flat development that absolutely needs a proper buildings insurance valuation (officially known as a reinstatement cost assessment) from experts in period buildings. There are hundreds of developments like this across the country and the last 20 years has seen a significant rise in the number of flats located within period conversions. Do you live in a converted school, hospital, warehouse or in a period mansion block? Do you have interesting period details internally, or just higher ceilings and thicker brick walls than are built today?
When assessing buildings for insurance we repeatedly see underinsurance in period buildings. If your home is falls into any of the categories listed below, you are more than likely to be under insured.
1. The building is listed
Buildings are listed because they're of special architectural or historic interest. This means, if there's a fire or other loss, special permission from the relevant planning authorities and agencies will be needed before rebuilding or repairs can take place. In other words, there'll be a big fuss. Fuss tends to cost more.
2. The building is made of stone
So what's so special about stone? Well, it costs more to build with stone. It costs more to repair and maintain stonework. And the stone may well be unique, having originally been sourced from a local quarry perhaps. Again, more hassle tends to mean more cost.
3. The building was built before 1920
Things aren't built like they used to be. It's true. Buildings from the past were built to last. And sorry for churning out another cliché, but you only get what you pay for. Better quality means higher costs, so older buildings are more likely to be under-insured.
4. The building has never had a proper valuation
If the sums insured are based on guess work, or they've been passed on by previous owners and you don't know the source of the original valuation, then the chances are they're wrong. Get them checked.
Some key points to consider for buildings insurance
Most insurance values for flats have been based on the cost to reconstruct in modern materials. If you live in a period building this simply won't be enough. You need reliable buildings valuation (reinstatement cost assessment) that considers all the factors.
An old building, that appears simple, would still cost more to rebuild than its modern neighbour. Why? Perhaps the ceiling heights are greater than the modern 2.2m. More height means more bricks and basically more of everything.
Do you live in a warehouse conversion? Have you noticed the thickness of the external walls? Thicker walls take more bricks and more bricks cost more money. Look at the windows. More than likely they were bespoke to fit the precise openings. Anything bespoke costs more.
New homes aren't built with chimneys as the main source of heat is not an open fire. If your home has open fires, original fireplaces and chimney stacks, again you may find that you are under insured.
About Lorna Harrington
Lorna Harrington is a Director of Barrett Corp & Harrington. She has 17 years experience in valuing buildings for insurance and has an RICS post graduate diploma in Conservation of the Historic Environment.
If you are concerned about where you live she is happy to be contacted on 0844 412 4495.